It is tough for a woman of colour when she wants to buy any kind of base makeup. I learned a long time ago that I cannot rely on cheaper brands like Rimmel, or Revlon. Instead I'm limited to higher end brands like YSL, Estee Lauder, Chanel or if all fails Mac. Even if a brand does make a shade that might be a match, it is unlikely that stores will carry it. So it becomes a battle. As a result, I've really ended up investing in skincare because honestly I can't afford to spend £40+ on a foundation product as makeup is now relegated to being for special occasions.
So you have some idea just how excited I was when I heard about this.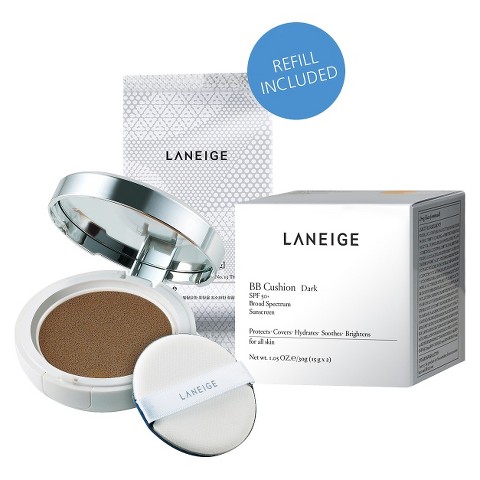 This Laneige BB Cushion is a Target exclusive and as far as my search has gone it cannot be bought anywhere else on the internet. Seriously. This US only colour, can only be bought directly from Target. But thankfully, I have amazing friends who are happy to ship me things (I love you little dongsaeng).
My Research
As this product is so limited and because I imagine so many Women of Colour (WoC) have been burned by BB creams before there are very few reviews of this product by WoC. Two actually, there are two.
1. The Beauty Barre. I got into contact with her after she posted her review on r/asianbeauty, and she was amazingly helpful answering my questions as best as she could. She's NC44.
2. BARE. Although this video is not in natural light, that she's NW43 helped a lot. I'm NW45, so having someone so close to my skintone review it helped me have a better understanding of how it would fit me.
What's in the box?
The packaging is pretty awesome, it looks like a premium product. Plus, the refill is handy! Especially for me, as I don't know when I can get my hands on another! You see the sticker covering the cushion? I've opted not to throw that away to stop the product transferring everywhere. It is initially a little fiddly, but I'd rather that, than have the product get everywhere.
Skin Match
This BB Cushion will match Mac NC50. I am not an NC50, I'm NW45. However I can wear NC50 shades like Mac's Matchmaster in 7.5, it just misses the warm undertone that my skin has and I end up with a more golden finish than I'm used to. When I use this BB, I have to careful to not layer it too thick around the edges of my face which are darker as this is actually a touch lighter. But it fits! That's the important thing. Once it dries and oxidises (is that the right word?) it settles and gives me a nice natural dewy glow. Not oily or shiny, but a legitimate dewy finish that makes my skin glow. My boyfriend who never makes specific compliments like this commented that I looked radiant. If that isn't a huge endorsement then I don't know what is!
Because the sun protection in this is a zinc oxide, and this shade is yellowy on me it initially has this white cast that quickly fades.
Application Method
The BB cushion comes with an applicator that all the reviews I've read say that is the best way to apply the BB, yet most also say that it is super unsanitary. It's a very dense foam that the product just sits on top of, but you're constantly dabbing it back into the product which is a bit squick. As someone currently dealing with active breakouts, that does not sound appealing to me.
---
UPDATE: The Puff is actually antibacterial! Read more about it

here

.
---
Although Laneige provide a how to clean the puff,
I can't do it in between dips, so I've ditched the puff in search of a more sustainable application style.
Standard Powder Puff
As soon as I dipped it into the cushion I knew this was a bad idea. The whole point of using a BB Cushion is so that you apply it in very very thin even layers, this doesn't help you do that. Most of the BB cream soaked into the puff, and so I was left with a super patchy and blotchy application. I tried to buff it out with a brush, but because whatever transferred was such a thin layer it had already dried.
ehhh..
Foam Wedge
So I tried foam wedges, and it went pretty okay. The trick is to work quickly, but because the surface area is small it took a long time to cover my face. It buffed out a lot better with a brush, but still wasn't optimal. I prize sleep over any other routine, so I needed this to be quick and easy!
Foam Egg
This is by far the best option hands down as it is made of a dense foam like the original puff. I tried to use it dry, but I realised that a lot of the product stayed on the puff. Boo! I found that wetting the egg, then squeezing out all the water so it is still damp to touch was the best way. Then I could carry on as if I was using the puff it came with and push it lightly into the cushion then bounce it on your skin in a dabby dab dab way. Here's a video describing what I'm talking about if you're finding it hard to visualise!
I never dip the same side of the egg into the puff and I use significantly less product than the wedge or powder puff to cover my whole face.
My thoughts
There were a few things that I wanted from this BB cushion. I wanted it to be easy to apply, not transfer on my boyfriend's shirts and I wanted it to give a natural dewy finish. It has delivered on all those fronts. Getting the hang of it was not easy, application takes time to perfect, you can't just slap it on in thick layers, that's not the point of a cushion applicator.
This is what happened when I slapped it on! Looks awful right?
Using thin bouncy layers is new to me, as is using the foam egg, but after a few times of practice I can apply it in five minutes or less with no blending out with a brush. Plus I now use significantly less product for the same natural dewy look. I'm finding with this, it's actually better to use less than more. I've had people unsure if my skin was just amazingly radiant, or if I was in fact wearing makeup. That was the reaction I was looking for!
The Hello Kitty doll (while adorable) is there to be a white balance, otherwise the images always come out like the ones on the right. The golden glow isn't as pronounced in person as the picture on the right, but it is more so than my natural skin colour. It doesn't cover my blemishes but it does even out my skin-tone and make my skin look radiant.
Pros:
Incredibly natural dewy finish.
Light coverage.
Quick application once you get the hang of it.
Cons:
Hard to source, as it's only available in selected Targets.
Cushion has an awkward learning curve
Unsanitary Puff. Seriously, why can't I buy more puffs?!
The sunscreen is physical and maybe causing minor breakouts on my skin.
So if you're someone really wants a no-fuss, natural dewy finish from your skin base then I couldn't recommend this product enough!
Final Score: Holy Grail status